On 24 May 2018, the National Assembly of Pakistan voted in favor of an amendment to the Constitution of Pakistan for the FATA-KP merger which was approved by the Senate the following day. Since the change was to affect the province of Khyber Pakhtunkhwa, it was presented for approval in the Khyber Pakhtunkhwa Assembly on 27 May 2018 and passed with a majority vote. On 28 May 2018, the President of Pakistan signed the FATA Interim Governance Regulation, a set of interim rules for FATA until it merges with Khyber Pakhtunkhwa within a timeframe of two years. The 25th Amendment received assent from President Mamnoon Hussain on 31 May 2018, after which FATA was officially merged with Khyber Pakhtunkhwa.
Merger with Khyber Pakhtunkhwa
On 24 January 2017, the federal government decided to merge FATA with Khyber Pakhtunkhwa, requiring legislation managed in Parliament after approval from the federal cabinet. Prime Minister Nawaz Sharif was to apprise the ministers of the merger issue in upcoming federal cabinet meetings. After approval for this merger, the Law Ministry would be asked to prepare the draft of the bill that would be presented in parliament for approval.
Under the plan, FATA was to be put under the control of the provincial government through amendments to the Frontier Crimes Regulation (FCR). An annual grant of Rs100 billion was proposed for FATA's development under the proposed merger and the amount will be given from the Federal Divisible Pool.
The FATA Reforms Committee proposed in 2016 a set of "parallel and concurrent" political, administrative, judicial, and security reforms, as well as a massive reconstruction and rehabilitation programme, to prepare FATA for merger with Khyber Pakhtunkhwa.
The proposed merger was near finalized at a meeting presided over by President Mamnoon Hussain at the Presidency in January 2017. The Prime Minister gave approval after discussing the issue with all the stakeholders. By March 2017, the federal cabinet approved the merger of FATA with Khyber Pakhtunkhwa and other reforms.
Geography
The Federally Administered Tribal Areas were bordered by: Afghanistan to the north and west, Khyber Pakhtunkhwa to the east, and Balochistan to the south.
The seven Tribal Areas lay in a north-to-south strip that is adjacent to the west side of the six Frontier Regions, which also lie in a north-to-south strip. The areas within each of those two regions are geographically arranged in a sequence from north to south. The geographical arrangement of the seven Tribal Areas in order from north to south was: Bajaur, Mohmand, Khyber, Orakzai, Kurram, North Waziristan, South Waziristan. The geographical arrangement of the six Frontier Regions in order from north to south was: FR Peshawar, FR Kohat, FR Bannu, FR Lakki Marwat, FR Tank, FR Dera Ismail Khan.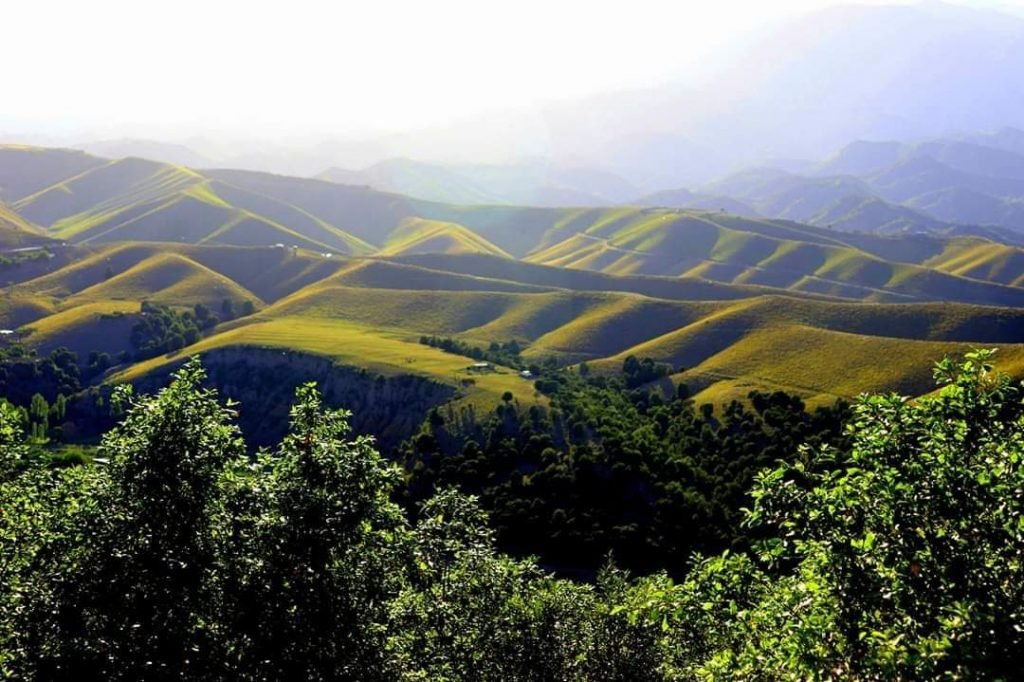 Demographics
The total population of the Federally Administered Tribal Areas was estimated in 2000 to be about 3,341,080 people or roughly 2% of Pakistan's population. Only 3.1% of the population resides in established townships. It is thus the most rural administrative unit in Pakistan. According to 2011 estimates, FATA gained 62.1% population over its 1998 figures, totaling up to 4,452,913. This was the fourth-highest increase in the population of any province, after that of Balochistan, Sindh, and Gilgit-Baltistan.
The Tribal Agencies were (from North to South)
Bajaur Agency
Mohmand Agency
Khyber Agency
Orakzai Agency
Kurram Agency
North Waziristan Agency
South Waziristan Agency
Agencies were further divided into Subdivisions, and Tehsils. According to the Election Commission of Pakistan, the Federally Administered Tribal Areas consisted of the following subdivisions and tehsils
Health
There is one hospital bed for every 2,179 people in the former FATA region, compared to one in 1,341 in Pakistan as a whole. There is one doctor for every 7,670 people compared to one doctor per 1,226 people in Pakistan as a whole. 43% of the former FATA region's citizens have access to clean drinking water.
Education
The Former FATA region has a total of 6,050 government education institutions out of which 4,868 are functional. Out of these 4,868 functional institutions, 77 percent (3,729) are primary schools. Total enrolment in government institutions is 612,556 out of which 69 percent are studying at primary stage. Total number of working teachers in FATA is 22,610 out of which 7,540 are female. The survival rate from Grade KG to Grade 5 is 36 percent while the transition rate from primary to middle in public schools in Ex-FATA is 64 percent (73 percent for boys and 45 percent for girls).
The Former FATA region has one university, FATA University in Akhurwal, Darra Adam Khel, FR Kohat, which was approved by Mir Hazar Khan Khoso in May 2013. Classes commenced on 24 October 2016, under the direction of Dr. Mohammad Tahir Shah, former professor of geology at University of Peshawar. The university plans to open sub-campuses at Khar, Miran Shah, and Parachinar.
The Former FATA region's literacy rate is 22%, which is well below the nationwide rate of 56%. 35.8% of men, and only 7.5% of women receive education, compared to a nationwide 44% of women.
Sports
The former FATA region has produced some world-class sportspersons like cricketer Shahid Afridi from Khyber Agency and squash player Maria Toorpakay Wazir from South Waziristan who won the National Women's Squash championship in 2010. FATA is home to the domestic cricket team FATA Cheetahs. The Federally Administered Tribal Areas cricket team gained first-class status in 2015.
Latest posts by ZunNurain
(see all)