Within Pakistan, especially when it comes to Restaurants in Islamabad, the cuisine varies greatly reflecting the country's ethnic and cultural diversity. You can find food from the eastern provinces of Punjab and Sindh that are highly seasoned and spicy, which is characteristic of the flavors of the South Asian region. You can find food from all other parts of Pakistan, particularly Baluchistan, Azad Kashmir, Gilgit-Baltistan, Khyber Pakhtunkhwa, and the Federally Administered Tribal Areas that hold distinct tastes based on various regional influences, in the city of Islamabad.
International cuisine and fast-food chains are popular in all the major cities of Pakistan. Blending local and foreign recipes (fusion food), such as Pakistani-Chinese cuisine, is common in large urban centers. Furthermore, as a result of lifestyle changes, ready-made Masala mixes that are mixed and ready-to-use packets of spices, are becoming increasingly popular. However, given the cultural and geographical diversity of the people of Pakistan, cuisines generally differ from home to home and may be different from mainstream Pakistani cuisine.
When it comes to the capital city of Islamabad the hills, greenery, and serenity are definitely to die for. And when it comes to the food of Islamabad, the city prides itself in offering flavors from all over Pakistan all in one place. In the last couple of years, Islamabad has seen a remarkable chain of new eateries. So, we are going to tell you about the top five restaurants in Islamabad that you don't want to miss out on, right here, right now!
Let's discuss a few top-rated restaurants in Sector F-7, Islamabad today!
1. Jessie's Burger – Restaurants in Islamabad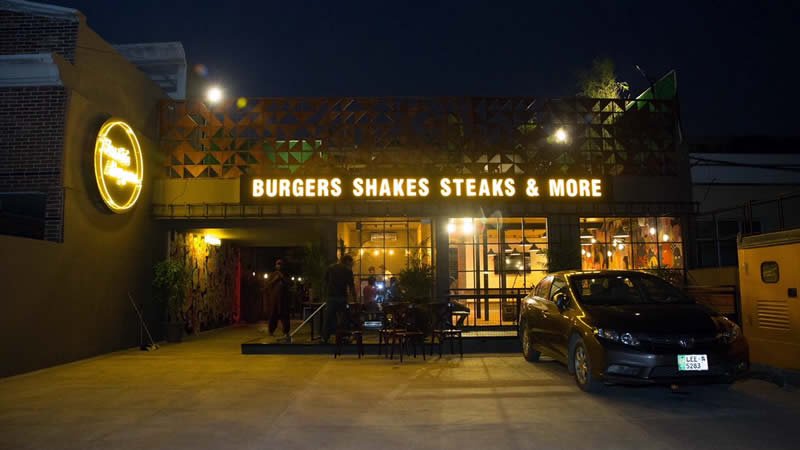 Jessie's Burger is the brainchild of the Jaswal brothers, which offers the best burgers in Islamabad, by far. Upon entering Jessie's you may see a very limited space that is very well utilized with a simply decorated modern interior. You may ask what is so special about Jessie's, well we can answer that question in just one word i.e. "freshness".
The quality of the buns, the crispness of the lettuce, onions, cheese, chicken or beef patties, and the special house sauces make their food such a treat. Each bite of their burger reminds you of what real burger meat should taste like. So, if you ever find yourself in Islamabad, hankering for a burger, go to Jessie's to grab a bite. We would recommend the Grand Beef Burger paired with the mint lemonade, to stimulate your tastebuds.
2. #EAT – Restaurants in Islamabad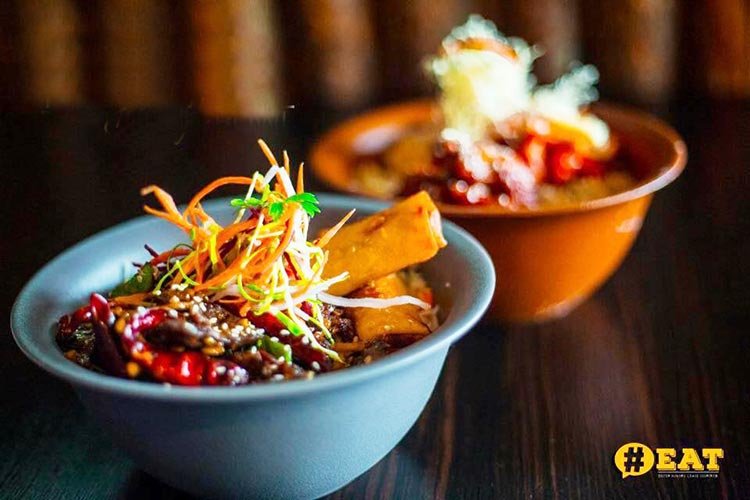 Situated near the Goal Market, you will see a catchy signboard with bold yellow letters that read "#EAT". Opened in 2018, EAT serves both Asian and Continental cuisine and has become the talk of the town, all for the right reasons. The menu at EAT displays a variety of food, ranging from Chinese and Thai dishes to Sandwiches and Continental main courses. EAT is most famous for its regularly ordered main course which is the Rice Bowl.
The best part of the whole experience is that if you order the rice bowls, you can customize them in accordance with your preference and the options given on the menu. Their Thai green curry is also very popular amongst all restaurateurs. Overall, EAT is a good addition to the chain of restaurants in Islamabad and as it is reasonably priced, it's a go-to for everyone!
3. Meraki – Restaurants in Islamabad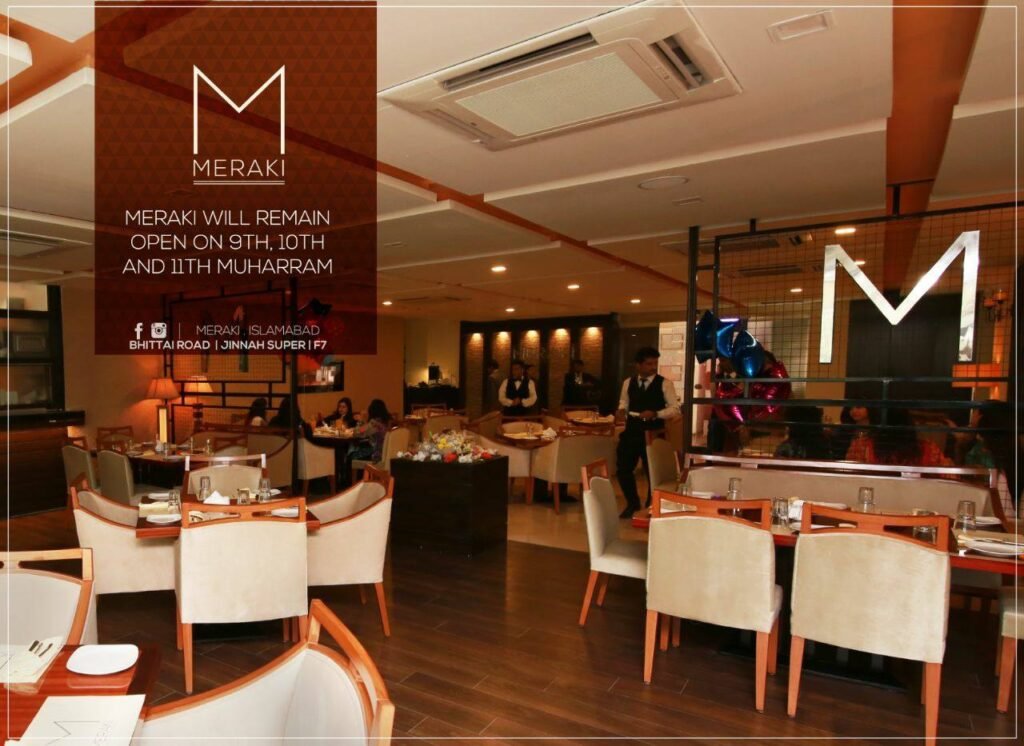 Meraki is a result of careful, meticulous planning spanning over five years of dedication and hard work. You will find Meraki right above the Meat One outlet in F-7. Upon walking into the restaurant, you will find everything mesmerizing, the lighting, the decor, and the interior. Another thing that will just fill your heart with joy is the freshly baked bakery goods and confectionery in one corner which fills the interior with intoxicating smells. The menu includes local as well as cuisines from all over the world. They have a wide range of smoothies that just leave the taste buds tingling.
One dish that needs to be praised is their Dajaj Mashwi, is a simple yet exquisite chicken dish with Lebanese roots. It is marinated in special spices, garlic, and olive oil. The chicken is paired with a portion of delicious creamy pasta. Meraki offers excellent service and great soul food, this is one restaurant you should keep an eye out for.
4. English Tea House – Restaurants in Islamabad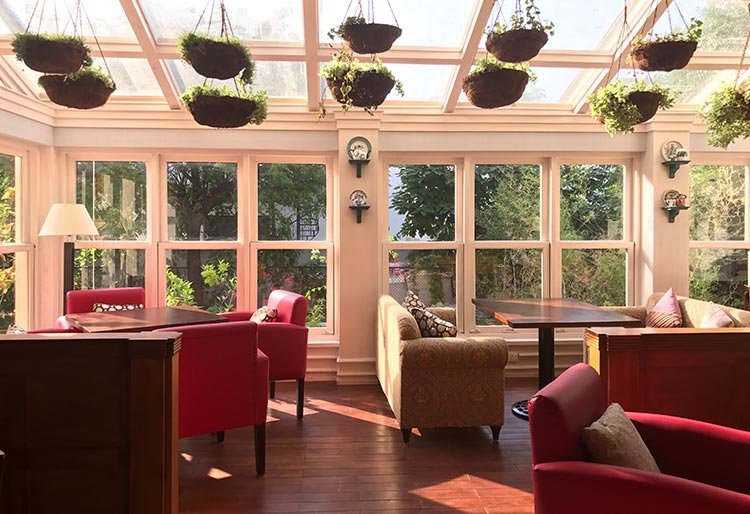 The chain of restaurants originating from Lahore is slowly spreading into the capital. Islamabad recently welcomed the English Tea House with open arms. It is situated in front of Rana Market, F-7. It is a two-story, red-bricked building with big windows and door frames. There is a beautiful garden on the right side where people can enjoy their food in their serene outdoor seating. As night falls, the restaurant is lit up by yellow lights and fireplaces, making the whole experience very cozy and comfortable. The in-house bakery is just the beautifully glazed cherry on top.
In addition to their daily breakfast menu, they offer a wide range of options starting with a wide variety of pasta and steaks. Two dishes that are a must-try are the Chicken Katro that is a chef's recommendation and Lady Smith's Choice Burger. At the end of your meal, the Molten lava cake and the cheesecake will make your experience of the English Tea House a day to remember. All though, the prices are high, but the quality of the food explains why.
5. Qishmisch – Restaurants in Islamabad
It's very hard to find a restaurant in Islamabad that offers good, desi food that satisfies your food buds. Qishmisch is affordable and offers a wide range of traditional Pakistani dishes. The decor of Qishmisch is modern yet traditional with comfortable seating. The interesting wall décor is an intricate pattern of Urdu alphabets, adding a unique and traditional touch to the restaurant's whole look. It is a very good place to have private lunches, dinners, and hi-tea. However, corporate events and large parties can also be hosted there.
Now coming to the menu there is a wide range of dishes starting with Chinnioti Kunna, Chilman Gola Kabab, Tawa Chicken Tarka Masala, Shahi Murgh Curry, and Madrasi Chicken, they also offer daals and vegetable-based dishes. The must-try dishes are the Chinnioti Kunna, which is lamb shanks cooked on a very low heat in lamb stock with an aromatic blend of garam masala and homemade spices.
Next is the Hi-tea platter which with its Gol Gapa (Pani Puri), Chana Chat, Fruit Chat, Dahi Bara, Chana, Aloo Bhaji, Puri & Suji Halwa, have the ability to fill your stomach as well as your heart. It is a good place to go to enjoy desi food with your friends and/or family.
We hope this article has given you some sort of idea as to where to eat in Islamabad, the next time you find yourself in the area. As for the people who live in Islamabad and haven't tried these places, you guys should definitely check it out and then let us know what you think of them.
Latest posts by ZunNurain
(see all)